FangFang is a virtual assistant that collects both housing and roommate information for struggling renters
Project Objective:
The project was done for 58.Inc. I was responsible for this project, and I collaborated with data analysts, UI / UX designers, researchers, design leads and product managers in the company.
Project Details
Project Duration: almost 3 months

Project Type: Internship at 58.Com Inc

My Role: UX design intern

Approach: Primary research, ideation, UI, prototype, video editing.

( With the help of data analysts, researchers and other designers )
It's really hard for renters to find good roommates and a nice home at the same time:
1. People gradually lose their patience throughout the process
2. Passive communication brings problems between roommates
3. People feel helpless and in pain but there is nothing they can do
Fangfang is a virtual assistant that collects both housing and roommate information, and create groups for struggling renters. Our goal is to help them find a comfortable home in this bustling city.
It's an efficient and simple way to offer you a perfect match.
Intro & Sign in
We provide the overview of the application, so it's easier for you to understand the mental model of FangFang.
By connecting with your social media, you have a higher chance to match with your friends.
Type location & search groups
Type any address, city, zip code or neighborhood, and we help you match with appropriate groups.
Join the group chat and check group info
You can make your considerations by chatting with the rest of the group members and browsing the housing info.
By clicking the "list" button, you can check out the price and amenities of each room.
View other user's profile
If you are curious, click on the group members' profile picture to learn more about them.

Besides their basic info, you can see your similarities, their lifestyle, personality, interests, and their expectations on the profile.
Make your decision
To improve efficiency, you have a limited time to consider, after that you need to confirm this group, move to the waiting list instead, or quit this group.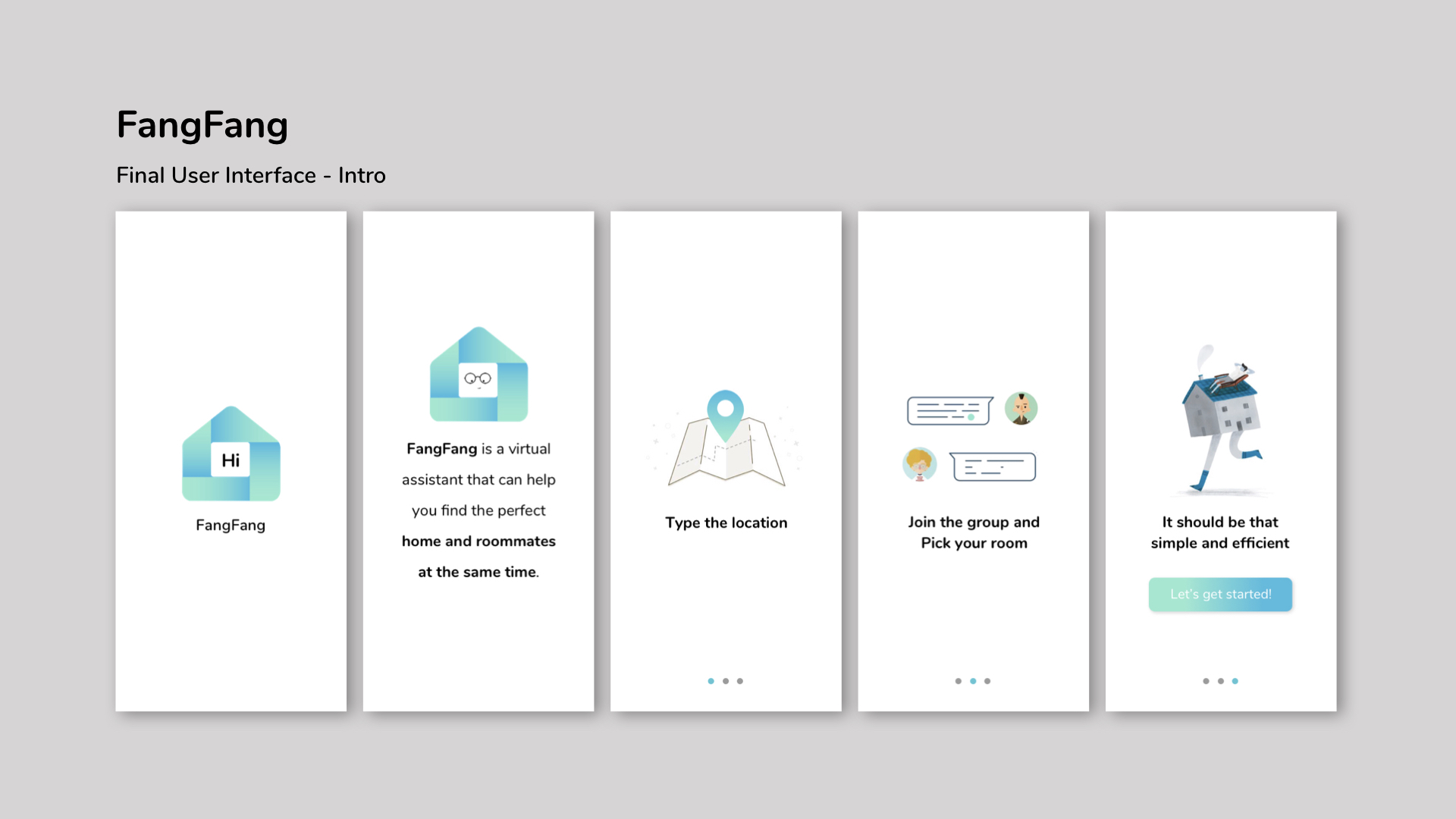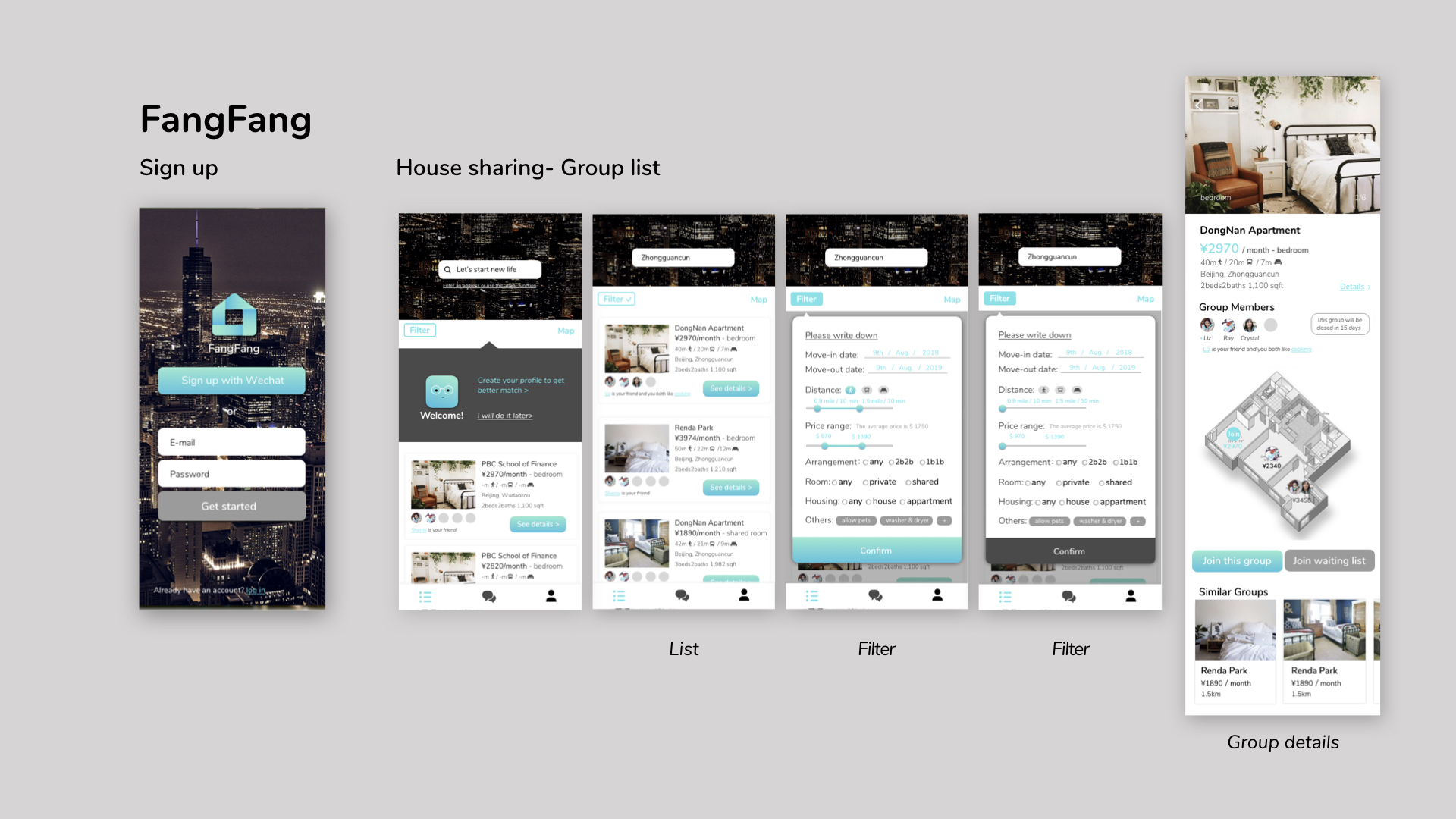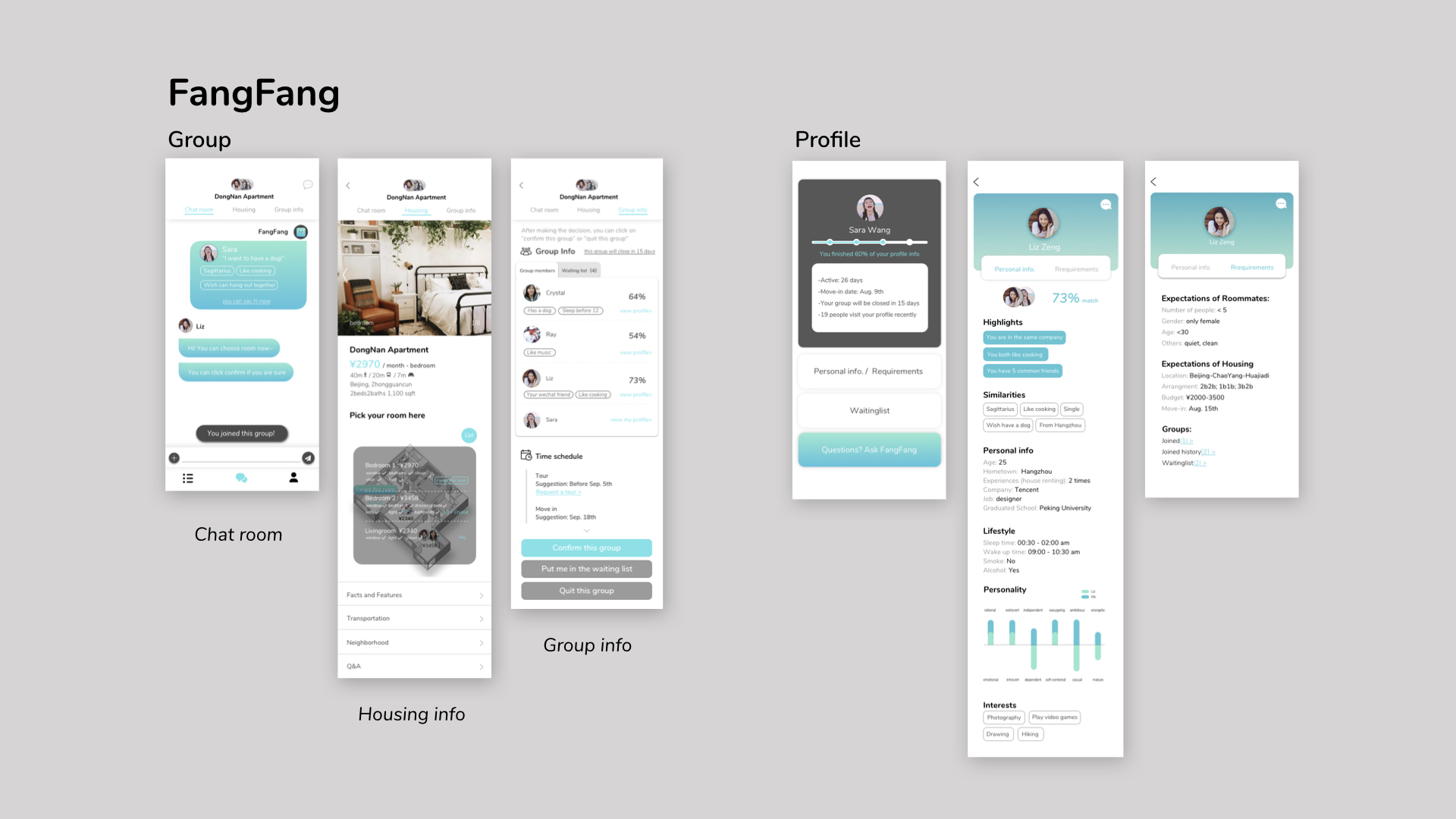 Work distribution & timeline:
Collaborate with 58.com Inc: market research, user research, system diagrams, ideation ( 2018. 6.25 - 8.15 )

Individual work: final idea, user flow, UI, prototype, usability test, video editing ( 2018. 12.24 - 12.28 )



Influenced by national policies and multiple factors, the rental market will continue to grow in the future. It is estimated that by 2023, the rental population will reach 248 million. Newest policy is beneficial to further promote the development of the housing rental market.
Also, according to a new paper from the World Resources Institute, 330 million households, or roughly 1.2 billion people in the US lack access to secure, affordable spaces to call home.
2.User Research
Empathy Maps & Semantic Profiles
We sent out 200 surveys through our 58.Com platform. Based on participants' info, we divided them into different groups, and we selected the same number of participants from each group to interview. Empathy maps, which organizes the information, made it easier to communicate with other researchers.
For the semantic profile, we divided the interviewees into three different user groups based on our analysis.
Analysis of Target Users:
The mental model and ecosystem map helps me to understand our target user group better. I reorganized the information I found from the interviews into 4 concentric circles — Who, What, Why, How might we/Insights.
I also separated information based on people's behaviors, thoughts, expectations, and realizations. Interestingly, I found some gaps in between, which generated a lot of helpful insights.
Insights:
1. People gradually lose their patience throughout the process
2. Passive communication brings problems
3. People feel helpless and in pain but there is nothing they can do
So, how might we help users to decide on housing and roommates?
4.Ideation & Iterations
Ideation:
I organized 3 ideation events in the company. Over 60 people participated and devoted 300+ ideas including researchers, UX designers, UI designers, design leads, and product managers.
Asking for feedback is an efficient way to iterate concepts. By presenting our findings and ideas to people, we gradually simplified our strategy — connect housing and roommate info to improve users' searching efficiency. I then highlighted more plausible ideas.
"What makes you feel like home?" I asked.
"A place that I know where I can go back even in the midnight. "My interviewees told me.
So I decided to use dark colors to represent "night" and light colors as metaphors of lights.
5. Final Idea - FangFang
Walk Through
Next Step & What did I learn?
I still need to run a few rounds of usability tests to fix some small problems.
This was the first time that I got to know the real world, talk to real people and solve their real problems. I still remember at the end of the interviews, my interviewees asked me whether their voices would be heard. I said yes. I was really proud when I presented my research results to the company. Everyone was really into what I found out. I made it, and I not only allowed their voices to be heard by the company, but also helped millions of users in China.
Working with data analytics, researchers makes me realize the magic of data and how to build empathy with our customers.
It was a really unforgettable working experience for me, which I am proud of.
Thank you so much for your time. I hope you enjoyed it!